Tips for choosing a new kitchen sink
One sink or two? (or even three!)
One sink
One large sink will be preferable if you are considering a farmhouse sink, as that is the style. The advantage of a large sink is that you have a lot of space to wash up and to leave that large casserole dish to soak. The downside is if you are juggling two sink-based chores at the same time  – maybe washing up and preparing food – it can be quite tricky in one sink.
Two sinks
When it comes to choosing a double-basin sink, there are several popular styles to choose from. If you have one larger sink and one small sink – the 60:40 ratio is a common standard – you should have one sink big enough to soak most pots and pans and still space to prep food. This might not be the case with two basins of equal size side-by-side.
Three sinks
There are also three-sink options, typically with two basins and a smaller sink with a garbage disposal unit. A trough sink is another type of sink that has become popular in recent times, so several people can work at it at one time. Remember, these will take up more space.
Which material works best for your needs?
Stainless steel
Stainless steel sinks add a stylish industrious edge to your kitchens aesthetic and are a practical solution. Hard wearing and easy to clean, they are incapable of being cracked or chipped but may get the odd scratch in the first few weeks of use. These tend to fade out over time however.
Composite materials
Composite materials, such as resin or quartz, are also highly durable. Resin sinks are made from man-made materials giving the look composite, while being cost effective. They are still hard wearing, however cannot maintain the same heat and scratch resistance as real composite quartz.
Ceramic
Ceramic sinks are a traditional material and work well in a farmhouse kitchen setting. Handcrafted and baked in fireclay, its silky smooth surface is easy to clean and maintain whilst being sturdy and hardwearing.
What's your style?
Undermount sinks
Popular at the moment are undermount sinksthat are installed under the work surface for a cleaner look. With no edges to clean round it makes keeping the work surface free of scraps much easier.
Top mount
Drop-in or top mount kitchen sinks fit into an opening in the counter and are much easier to install making them a more cost effective option. They do however lack the clean and minimalist look of an undermount sink.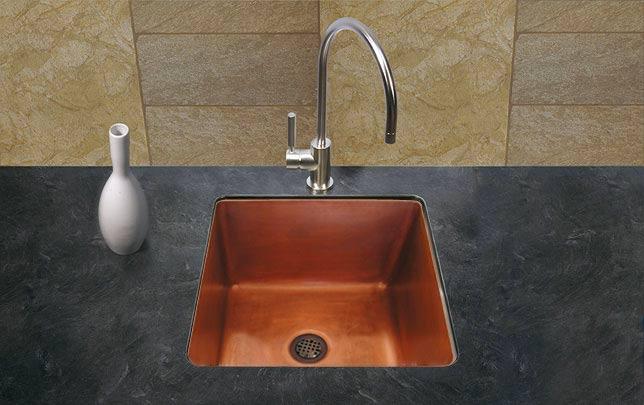 How to Choose the Right Kitchen Sink
large, single kitchen sink.
A kitchen sink with a single, deep basin means you can easily soak or wash a big pan or prep large quantities of food.
Rinsing vegetables while soaking a large casserole dish requires a bit of juggling — as does hand washing and rinsing china or stemware.
A certified Master Kitchen and Bath Designer for 30 years, Sharon Flatley has seen the kitchen sink grow wider, deeper and more diverse. "There's so much more to choose from now," she says.
These days Flatley, the principal of Flatley & Associates in Dallas, says most of her clients opt for a kitchen sink with a single, deep basin that is 33 to 36 inches wide and 8 to 10 inches deep. "This kind of sink is very versatile," she says. "It works whether you cook a lot or not much."
Flatley says the delicate dance of doing prep work and cleaning duty at the same time can be accomplished with accessories. "Most sink manufacturers offer a wealth of add-ons," she says, "including rinse baskets that fit nicely in the basin."
Two basins of differing sizes (a 60/40 or offset sink).
Two basins in your kitchen sink allow you to perform separate tasks, such as cleaning dishes and preparing food, with ease. A 60/40 kitchen sink has one basin that is usually about 18 inches wide and another that is 14 inches wide. The idea is that you can clean up in the large basin and prep in the smaller one. Dual basins also come in handy when you are washing items you don't want to put in the dishwasher (soap in one basin, rinse water in the other).
A smaller basin makes it harder to wash and soak large pans.
"For clients who want flexibility, a double sink can be the way to go," says Flatley. "There are also a number of people who are accustomed to working with two basins, and they don't want to change."
Dave Burcher, principal at In House in New York, notes that double sinks aren't necessarily limited to the 60/40 split. "Although that ratio is the most common one, the customization options are nearly limitless," he says.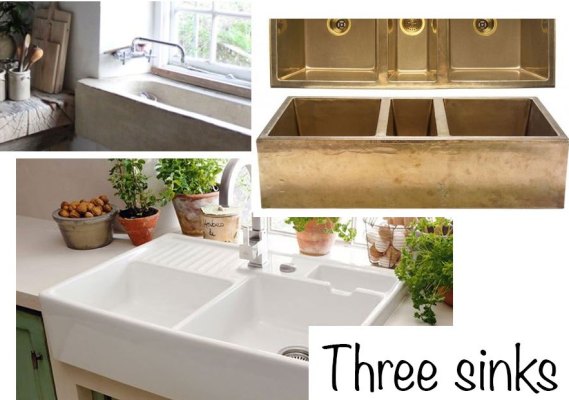 Easy steps to choosing the perfect kitchen sink
Know the dimensions correctly
Before heading out to the market to purchase the sink, you must first know the dimensions of your sink area. There are single basins, rectangular basins, double bowled sinks and double sinks of the same size for rinsing and washing.  Thus know what exactly you want and what the size must be before purchasing.
Choosing the sink materials
The next step is to select the material of the sink. Sinks are available in several materials including solid surfacing, composite of quartz, stainless steel, cast iron colourful enamel and others.  Each has its own positives and hence you must be clear about its purpose for yourself.  Make sure you select the one which is most durable and goes well with your kitchen interiors and colours.
Check the type of installation
Another thing that you must consider before purchasing a kitchen sink is the type of installation.  The way the sink is installed has a direct effect on the look and usability.  On one hand there are drop-in sinks whereas on the other there are self rimming sinks.  Both are mounted above the counter.   The sinks that are installed underneath the counter include recessed sinks and under mounted sinks. Similarly, many other varieties are available and hence one must choose carefully.
Consider the features being offered
Another important tip to choose the perfect kitchen sink is to know and consider the features that are being offered.  Some of the features include clamps for easy installation, availability of 2 to 3 bowls for avoiding water from spilling on the floor and rear drains etc. Some of the others include rim seal, sound lowering pad and others.
Do not forget your budget
One of the most important things to remember when choosing a kitchen sink is your budget. Set a realistic budget bracket and make sure that the sink that you buy comes within that limit. Sinks are available in many price ranges and you might easily get tempted to buy an expensive one but it is better to avoid exceeding your upper limit.
Kitchen Sinks: How to Choose the Best Style for Your Needs
The aesthetic appeal of the kitchen sink
"With the evolving role of the kitchen leading to tasks beyond traditional cooking and cleaning, people are often selecting more secondary sinks," explains Peggy Gallagher, Senior Product Manager at Delta. When choosing the right sink, Gallagher tells Freshome that there are several factors to consider, but she believes style is the main driver.
"Consumers are primarily looking for the right kitchen sink to complement their personal style," Gallagher says. "More and more, people are not only cooking and eating in the kitchen, but also socializing, entertaining and using the space as a place to work." In fact, she says that two-thirds of consumers are spending at least three hours per day in the kitchen.
Kitchen sink styles
Stainless steel farmhouse sinks are durable and stylish. Image courtesy of Moen.
"Regarding design, undermount sinks offer an appealing aesthetic, make cleanup a breeze and are the ideal complement to popular natural stone and solid surface countertops," Nealon explains. "The exposed front wall of farmhouse sinks complements traditional kitchens well, whereas drop-in sinks offer added convenience with a quick and easy installation process," he says.
Another consideration when choosing sinks is determining which style will work best with your countertop material. "Top-mount, which is installed flush with the countertop, is often used with laminate counters," explains Eric Moore.
tips for choosing the best kitchen sinks and tapware for you
Stick to a style
Ensure your sink and tapware make sense in the space. If your kitchen errs on the traditional side of the fashion fence, so too should your accessories. A minimalist, stark space suits stainless steel items in a square or rectangular shape. While a country cottage kitchen would call for a ceramic sink and more rounded tapware.
Understand your needs
How do you use your kitchen now? And are your needs likely to change in the future? Always think ahead to ensure your kitchen sink and taps (as well as the entire space) will adapt to your changing needs.
For instance, if space allows, a double sink will allow you to work more efficiently and get more done with less stress – as might a drainer.
Likewise, master chefs may need a more advanced tap than simple cooks. In that case, a hose tap for spraying pots and pans is probably best.
Opt for quality
A quality sink and taps are an investment. And given that you'll likely use them frequently every day, it pays to buy the best your budget can afford. Cheap items simply won't last as long and so will require regular replacement. A quality set, however, should serve you well now and into the future.
Think of the finish
Finish is just as important as function, shape, and style. Choose a finish that matches the rest of the space. Glossy chrome tapware works well with a stainless steel sink, while a matte finish is another popular choice. If your space is more eclectic, you could choose copper or even brass. Coloured tapware is also cropping up in contemporary kitchens. Just be sure to choose a finish that integrates with your cabinet doors and handles for a harmonious design.
Size it up
Lastly, consider how the tapware and sink will work together. A smaller sink calls for a smaller tap, while a bigger basin requires balance with bigger taps. You'll have to think about how the taps will be mounted, too, as this will affect the size you can choose.