How do I safely clean a real wood floor?
A real wood floor adds a truly beautiful style and feel to any space. But keeping that floor clean is essential for protecting it and extending its longevity. The colour and appearance of the wood will naturally slowly shift, but it's important to ensure this only happens as a result of natural ageing, and not as a result of damage caused by poor maintenance.
General wood floor cleaning tips
There are several things you can do regularly that will make maintaining your beautiful hardwood floor considerably easier…
Ensure you have good quality doormats at all entrances to your house, preferably made from coir matting, to catch as much dirt as possible before it enters your home.
Immediately wipe up any spills on your wooden floor. Liquid left standing on the surface of the wood is more likely to be absorbed into the timber, which can cause stains or movement within your floor.
Sweep, mop (with caution) or vacuum your hardwood floor regularly. This will prevent any abrasive dust or grit accumulating, which can scratch the surface of the wood and damage / dull the finish.
Use a vacuum with a soft brush head. It is not recommended that you use a vacuum with a hard head that can mark the floor. The same applies for heads with a rotating brush as these often have a support bar underneath that could potentially scratch your floor.
No steam cleaners. It is not recommended that you use steam cleaners to clean your hardwood floor as they can breakdown the finish as well as potentially cause damage to the floorboards.
Use felt pads on the base of all your furniture, to prevent anything scratching the wood.
When mopping your floor, use the minimum amount of water. Use a mop you can ring out well so you're not applying an excessive amount of water over the timber.
Avoid household cleaners and detergents as they can be abrasive, causing damage to your wooden floor.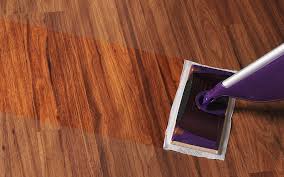 How to clean a lacquered wooden floor
A high quality Lacquer will provide an extremely hard finish that is designed to last a long time. From a cleaning perspective, it is simple, as you can effectively clean your floor using a damp mop and appropriate lacquer wood floor soap.
That being said, it's important to be extra careful when cleaning lacquered floors, as the finish can't be replenished or patched up easily. Avoid detergents and the use of steam, as this can break down the lacquer over time and take note of the other tips described above.
How to clean an oiled wooden floor
An oiled finish on a wooden floor provides a more penetrating seal, which soaks into the grain of the wood and hardens. Unlike lacquer floors, oils can be more easily replenished by the use of soaps and further treatments of oil.
Consequently, oiled wooden floors can last longer than lacquered providing they are correctly maintained – many lasting decades in good condition.
Oiled floors are simple to clean. The cleaning product that you use will depend on what oil has been used to treat your floor. For example, if your flooring has been treated with Treatex Hardwax oil you would clean your floor using a product called Treatex Floor Care whereas if your floor was treated with a Woca Oil you would clean your floor with Woca Soap. These products are simply mixed with water and you can mop your floor, being careful not to get the floor too wet, in the normal way.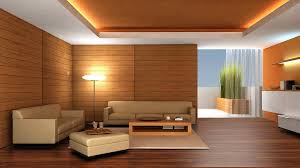 Routine Hardwood Floor Cleaning
Sweep, dust mop or vacuum regularly. When using a vacuum cleaner, disengage the beater bar or use the "bare floor" setting to avoid damaging your floor. The vacuum head must be brush or felt, and a wand attachment is preferable.
Clean your hardwood floor occasionally using a mop with a microfiber or terry cloth cover and cleaner. Never mop with water.
Tips for Protecting Your Floors
Wipe up spills immediately.
Place a natural or colorfast mat at outside entrances to reduce the amount of dirt and moisture brought into your home.
Use area rugs in front of kitchen sinks and within high traffic areas. Rugs must be made of a breathable material to prevent moisture entrapment — and rugs with solid rubber or vinyl backings are not recommended.
Keep your pet's nails trimmed to minimize finish scratches.
Use floor protectors on furniture to reduce indentation. The heavier the item, the wider the floor protector needed.
Protect your floor from direct sunlight.
DON'T walk on wood floors with spike or stiletto-heeled shoes. Remove shoes at the door to avoid potentially dragging in sharp objects that may be stuck in your shoe treads.
DON'T use any of the following products (or products similar in nature) on your floor: ammonia-based cleaners, acrylic finishes, wax-based products, solvent-based polishes, detergents, bleach, polishes, oil soap, abrasive cleaning soaps, or acidic substances such as vinegar. Only use a designated hardwood floor cleaner.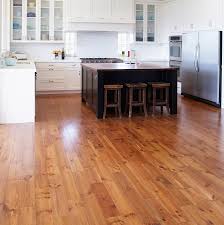 Things to Avoid
Part of proper engineered hardwood flooring care and maintenance is simply knowing what not to do. As mentioned above, it's important to avoid cleaning products with harsh chemicals, such as ammonia. You should also steer away from wax-based cleaners and oil soaps. Use only soft materials to apply your cleaners—never use a steel wool brush or scouring pad to buff out marks or scratches. A microfiber cloth or mop works great to collect dust and debris without damaging your floors. Because excessive moisture can damage your floors, avoid using floor steamers, wet mops, or other cleaning methods that would allow water to seep between the planks and cause warping or other damage.
Other Tips and Tricks
Dirt, scratches, and other minor damage is an inevitable part of living with engineered hardwood floors. However, several tricks and tips can help you prevent potential damage—no matter how many pets, kids, or unexpected events your floors face. Do your best to stay on top of messes. Wipe up any spills immediately, before the moisture has a chance to get into the wood and cause damage. Floor mats near doorways are a great way to trap dirt, gravel, and other outdoor debris that might make its way inside. You can also get a floor rug or runner for your entryway, hallway, and other high-traffic areas. Avoid using mats with latex or rubber backing, as this can damage the finish on your floors. You can also place protective mats under chairs or tables with wheels to prevent scratching. Similarly, make sure all the furniture in your house has felt padding on the bottom of the legs. This will help you avoid damaging your floors whenever you move or rearrange furniture.
Taking care of your engineered hardwood floors might seem like a hassle at first, but once you build a routine, you'll have the reward of gleaming floors and rooms. From the Forest is here to help by providing quality, nationally sourced maple, walnut, hickory and oak engineered hardwood flooring, along with the cleaning products and information you need to make them last. With a little care and effort, you can maintain the luxurious and traditional style that drew you to these floors in the first place.
Ice out wax and gum.
Dried candle wax, crayon marks, and chewing gum on floors with surface or penetrating finishes readily come away with ice. Fill a freezer bag with a few ice cubes, then place the chilled bag over the offending buildup until it becomes brittle, then scrape it off with the edge of a plastic spatula. If the spatula removes the protective wax from a floor with a penetrating finish, re-apply a solvent-based hardwood floor wax to the scraped area with a soft cloth, then buff it into the repaired area with the cloth.
Scrub water, ink, and pet stains well.
Spots left by water, ink, or pet urine represent the most stubborn of stains. Remove them from floors with penetrating finishes by lightly sanding the stain with extra-fine sandpaper, then gently scrubbing with a coarser "00" grade steel wool wet with mineral spirits. Wipe away the mineral spirits with a water-dampened cloth, followed by a dry cloth to remove the water. Apply a solvent-based hardwood floor wax to the scrubbed area with a soft cloth and buff it in to restore its shine. Sandpaper and steel wool can degrade surface finishes, so you'll want to tackle these stains using only a hardwood floor cleaner, along with a scouring pad designed for surfaced-finished floors.