Metal Roofing Learning Center
Where to Find Metal Roofing Contractors
So you might be asking yourself: Where do I even start looking for contractors? Many home/building owners just turn to the internet, which is a great place to start. But there are many more options and avenues to check with as well,
Ask for referrals – If you have a friend, family member, or neighbor who recently had a metal roof installed on their home or business building, they are one of the best places to start. Ask them who they hired as their contractor, but also ask who they didn't hire and why
Reach out to roofing organizations and associations – Any discipline or line of work has its own organizations and associations dedicated to education, training, advocacy, etc. Contacting one of these organizations that work with metal roofing contractors, such as the National Roofing Contractors Association or a local Home Builders Association, can help you find credible businesses available for hire.
Call an architect or builder – Architects and builders have extensive experience with roofing contractors, as they work with them on a regular basis for their own projects. If you know of any architects or builders present in your area, give them a call and ask about the roofing contractors they use or would recommend
Ask the manufacturer of the metal roof – One of the best ways to ensure the metal roof you want to purchase gets installed correctly by a good contractor is to contact the metal roof manufacturer. Manufacturers are often well connected in the roofing industry and can point you in the direction of contractors who have recently done good installation work.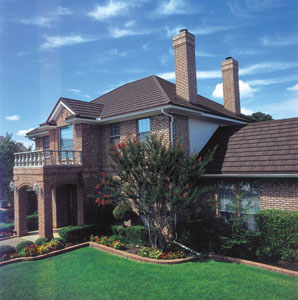 CHOOSING A METAL ROOF
There's a lot to be said for a metal roof's snazzy looks and top-notch performance. The right roof can liven the home's curb appeal and provide years of superior low-maintenance protection. Today's residential metal roofing comes in a wide variety of styles and designs. Metal roofing materials are not only light weight but can be very energy efficient. And unlike asphalt roofs, which require re-roofing every 15 to 20 years, metal roofs won't decompose. These roofs can withstand rain, fire, earthquakes and hurricane-force winds.
Although the initial investment in a metal roof is steeper than most other roofing materials, over time a metal roof can save a great deal of money and hassle. This is because there is no second investment in roof replacement, or the labor that comes with it. Metal roofs are practically maintenance-free, requiring only the occasional rinse with a garden hose. And most metal roofs come with a 30- to 50-year warranty. Insurance companies in certain states, like Texas, even offer discounts of up to 35 percent to homeowners with metal roofs
When selecting a metal roof, first make sure the product's design is an appropriate match to your home's construction. Most metal roofs require solid decking. Many systems are frequently installed over existing shingle roofs. Some can be installed over lathe boards or over wood shingles on lathe. Some new products can even be installed over existing slate and asbestos roofs
Next, choose a material that complements the décor of your home and neighborhood. You can find quality metal roofing with just about any appearance, whether it's standing seam or a facsimile of shake, slate, tile or standard shingles. Some of today's metal roofs are coated with a granular texture to look like traditional asphalt shingles.
Metal roofing is fabricated from a wide variety of metals, including galvanized steel, galvalume steel, aluminum, copper and zinc alloy—even stainless steel. The metals differ in properties, and the type used sometimes depends on the design of the roofing panel. Consider all the available options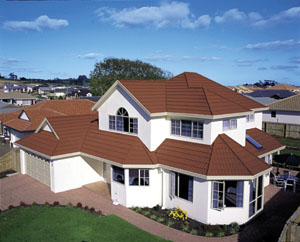 TIPS TO GET THE BEST PRICE ON YOUR NEW METAL ROOF
When it's time for a new roof, you want the best price, but no one wants to sacrifice quality. Metal roofs are a great choice, simply by virtue of the many, many options for style, color, profile, and thickness – more than any other kind of roofing you could buy. All of these choices mean something very important: because no manufacturer or supplier could have every option available all the time, many metal roofs are actually made to order. And that means there can be big savings when you buy existing inventory, which happens to be our number one tip to saving money on your new metal roof.
Ask about existing inventory
It's not an uncommon scenario for a metal roof manufacturer to make more material than he sells in a given period. When that happens, the clock is ticking on the value of that stock. Once it's been sitting around for some time, the manufacturer or wholesaler is ready to move that inventory – fast. Buying from a metal roof vendor's inventory is always a smart way to get a better price because you aren't having them make new material. How do you do it? Easy. Contact a supplier directly and ask about their current inventory. You can also subscribe to blog updates (available here via the link to the right) to stay in the loop for blow-out flash sales and promtions
Be ready to buy immediately
A manufacturer's desire to discount inventory metal roof material isn't something that lasts. Our second tip for getting the best price on a new metal roof is to take advantage of this static inventory as soon as you can. Buyers who are ready to order right away always get the best price. If you're just shopping, you simply don't have as much leverage when it comes to price. If you find inventory of metal roofing that's the right price, buy it! Otherwise, you've wasted all the effort you spent finding that great deal
Make a plan with the installer.
You could spend almost as much on installation labor as the metal roof itself, so make a plan for installation from the beginning. When we're contacted by someone who has an installer lined up, and just needs some direction on the best metal roof option, it's really ideal. Things become a bit more complicated when someone knows they want a metal roof, but has no plans for who should install it. We do maintain a network of metal roof installers, however, and we're happy to make recommendations
Order everything at the same time.
Metal roofing is one of the only roof materials in which all of accessories (drip edges, valleys, hips/ridges, etc.) can be made of the same material as the main roof. While it's not mandatory to order all of the accessories to match your new metal roof, ordering these pieces at the same time can save aggravation and money later. You'll definitely pay more to have these pieces matched after, instead of buying them before. Understanding exactly which accessories you need, and then ordering them at the same time, is a great way to trim some fat
Things To Look For In A Metal Roof
We hope that this finds you well and enjoying a good summer. We've been very busy, and it looks like this will be yet another record-breaking year for the residential metal roofing industry. If you're shopping for a metal roof, we have put together the following "Top Six" list of things to look for in your metal roof. Not all metal roofs offer these features, but we think you will agree they are very important.
Kynar 500® or Hylar 5000® PVDF resin-based finishes. Available in many colors and even multi-hued shades, these coatings offer the best combination of durability and fade resistance. Additionally, many people choose metal roofs in order to avoid the streaking and staining that attacks granulated-surface shingles.Kynar 500® or Hylar 5000® PVDF resin-based finishes offer the best resistance to streaking and staining.
"self-Cleaning" Valleys. Although you may not often think about it, a lot of debris ends up on your roof. As things like tree leaves, pine needles, seed pods, ice, and snow travel down your roof, they end up in any valleys your roof may have. Many metal roofs have "closed" valley systems with hidden waterways to channel water off of the roof. These hidden waterways, however, will clog up with debris and then the water path is blocked and bad things (leaks!) happen. "Self-Cleaning" valleys carry the water and debris on top of the roof and can't clog
Premium Certified Products. The Metal Construction Association has developed a Quality Certification Program which recognizes products and manufacturers that meet high levels of standards in terms of raw materials and processes. We strongly encourage products and manufacturers that are part of this program.
Special Flashings. Many roofs have areas which require special care. With metal roofing, you can't just depend upon sealants in those areas like is often done with temporary roofing materials. If your roof has dead valleys, skylights, chimneys, flared gables, or other unusual things, make sure that you understand exactly how these will be handled by your contractor.
Guide to Metal Roofing
With so many roofing materials available, homeowners have more opportunity than ever to find a roofing upgrade that perfectly matches their home. Narrowing down your options means taking the time to find a material that offers the ultimate combination of function and style.
Residential metal roofs are steadily gaining popularity with homeowners across the country, and once you understand the benefits of this material, it's easy to see why. Thanks to their durability and potential energy efficiency, metal materials like steel and aluminum have become an excellent option for homeowners looking to upgrade or replace their current roof.
The Pros and Cons of Metal Roofing
Metal may prove to be the right fit for your roof renovation, but it's important to closely consider the pros and cons of this roofing material before making your decision.
The Benefits of Metal Roofing
Many homeowners are opting to invest in modern metal roof setups, hoping to take advantage of the many benefits this material offers. From energy efficiency to fire resistance, style upgrades to durability, metal roofing can be a fantastic addition to your home.
Metal roofing can be treated with special paints and granular coatings that reflect solar energy while re-emitting any solar radiation that was absorbed. This may help lower energy use by reducing the need to run the air conditioner