Things to Think About When Remodeling Your Kitchen
Remodeling kitchen designed to complement you and your family's needs. If you plan on staying in your home, a kitchen remodel can improve your quality of life
Choosing Quality Cabinets
You know that old saying, "Quality over quantity"? When shopping for kitchen cabinets, always choose quality over the cheaper price. Cheap, low-quality cabinets don't hold up well over time. As a result, you may have to replace them sooner rather than later
Defining Your Goals
Even a small kitchen remodel can give you a good return on investment. Yet, it's important to think about what you want to get out of your kitchen remodel. Do you plan on selling your house soon? Or do you plan on staying in the same neighborhood for years to come? The answer will determine what type of value you're looking to get from a kitchen remodel
Exploring Your Options
There are tons of choices that will affect the appearance and function of your kitchen. This is why it's important to take advantage of our interior design services. One of our kitchen designers will walk you through all the details so you can stay within budget. Working with one of our interior designers can also help you get a good return on investment
Creating an Environment
A thoughtful design means creating an environment both you and your family will love. While anyone can sell you new kitchen cabinets, our designers see the whole picture. They think about how you'll use your kitchen on a daily basis and what features would offer the most value. For example, our innovative cabinetry designs can help you free up kitchen countertops.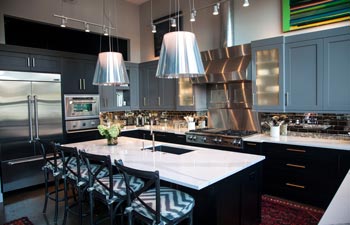 What It Costs To Remodel A Kitchen In 2017
The kitchen is the most popular room of the home to renovate, according to Houzz research, and those who choose to remodel the heart of their home have some definite preferences. After all, the No. 1 reason they choose to renovate this area is no longer being able to stand the old kitchen — can anyone out there relate?
The 2017 U.S. Houzz Kitchen Trends Study, from a research team led by Nino Sitchinava, Houzz's principal economist, reveals that homeowners updating their kitchens prioritize changing out countertops, backsplashes and sinks. A majority of kitchen renovators are also choosing a more open feel for this room.
How much does it cost? The most common budget — as well as actual spend — on a kitchen renovation remains $25,001 to $50,000, according to the survey. Only 9 percent of kitchen renovators spend more than $100,000; just 4 percent spend less than $5,000. We hope the numbers help give your own project some dollars-and-cents context.
If I see that backsplash one more time … The top motivator for renovating a kitchen continues to be that owners can no longer stand the old kitchen. An increasingly popular reason is finally having the financial means, the triggering factor for 40 percent of renovators, compared with 37 percent the year before.
Countertops before electronics. Countertops are the most popular feature to upgrade, followed closely by backsplashes and kitchen sinks. Notably, a majority of kitchen renovations (51 percent) open the space more to a nearby room, reflecting the ongoing popularity of the great-room concept
Why Choose Kitchen Remodeling?
With a new kitchen space, your family will be happy to spend more bonding time here. Besides, there are endless possibilities of beautifying this area. Most of all, remodeling your kitchen gives a very high return on investment. You can choose to do a complete kitchen renovation or just focus on repairing some of its parts. Whichever you choose, kitchen cabinets are a good starting point since they make up the basic structure of a kitchen.
Readymade or custom built kitchen cabinets
You can choose between customized or readymade kitchen cabinets, depending on your specific needs. If your kitchen has a standard size of kitchen cabinets and you want to replace them, buying new ones will not be a problem. Besides being more affordable, these kitchen cabinets are readily available in home improvement and hardware stores.
If you are planning to change your entire kitchen and you want something more unique, you can go for custom built kitchen cabinets. Though they tend to be more expensive and take longer to make, these kitchen cabinets can offer a unique look and can be designed according to your given specifications. An expert contractor will involve you in every part of the process so everything you want will be followed, from the material of the kitchen cabinets to where they will be positioned.
Base or wall kitchen cabinets
In general, there are two categories of kitchen cabinets. There are base and wall cabinets. Base or floor cabinets are installed on the kitchen floor. Usually, these cabinets come with a tabletop above them. These kitchen cabinets are used in preparing food and to store small appliances like a mixer, blender, oven toaster, and microwave oven. They are usually built around the plumbing to hide their unsightliness. There are some base cabinets that are built under the kitchen sink to keep household cleansers and cleaning supplies. Other base cabinets have drawers built into their top half to house kitchen utensils. This makes it more convenient to get them whenever needed.
Kitchen Remodeling in Chicagoland
Whether you want to update a few key details to modernize your kitchen or need a total remodel to increase your kitchen's functionality, our team has your back—and more than 100 years of experience. Add the storage and counter space you need to improve organization, create more accessibility to your appliances, or transform your space into an open concept that works for your lifestyle.
Kitchen Cabinets
Cabinets can drastically change the aesthetics of your kitchen and provide needed functionality. You'll want to consider the material, finish, storage solutions, and surface styles to find the cabinets that best fit your style and needs. Whether you're going for a sleek, modern look or want to showcase your china,
Kitchen Countertops
Quality surfaces don't only transform the mood of your kitchen—they can increase the value of your home, too. The kitchen is one of a home's biggest selling points and countertops can improve functionality, giving you a more durable space for prepping meals or added style for hosting family and friends.
Kitchen Backsplashes
It's the details that add practicality and style to any room. Backsplashes bring texture and color to your kitchen. Our backsplashes come in a range of designs and materials to fit your space and style. Or you can work with our designers to create a one-of-a-kind custom backsplash.
Finishing Touches
Details like cabinet hardware, lighting, and plumbing fixtures can subtly transform your space from country to contemporary to coastal. These elements also offer improved functionality. For example, replacing an ancient faucet may reveal installation issues that you can solve at the same time as your remodel, ensuring proper functionality moving forward.
What is the average cost to remodel a kitchen?
The average kitchen remodel cost can range from $18,000 to $58,000, depending on the size of the renovated space and where you live. It also varies according to the cost of materials, the scope of the project and labor charges.
Keep in mind that an extensive kitchen renovation is an expensive task as you're dealing with components such as kitchen cabinets (one of the most expensive elements of any kitchen remodel) and countertops. You will probably also want to replace an array of kitchen appliances — all of which cost big bucks.
How do average kitchen remodel costs vary?
Your complete cost takes a number of factors into consideration, such as the total square footage of the space, the scope of renovation, your zip code, local labor costs and the finishing details – just to name a few.
How much does it cost to remodel a kitchen?
Your kitchen improvement project can be broken down into several components that the total price will take into account.
Should you opt for hiring professionals vs DIY?
Your average kitchen remodel cost also depends on whether you've decided to go ahead with a DIY project or want to hire certified contractors for the kitchen upgrades. Although the former will help you save money, it's best to have kitchen experts working on your kitchen project. They will definitely make your kitchen renovation easier, quicker, and hassle-free.