Ways to Keep Wasps Away From You
Aside from different nesting preferences, the main difference between bees and wasps is that bees feed their larvae pollen, while wasps — a category that includes yellow jackets and hornets — nourish theirs with insects. That means that wasps are actually great to have around the garden because they control nearly all types of pests.
Clove-Geranium-Lemongrass Oil Blend
Research published in the Journal of Pest Management Science found that a combination of clove, geranium, and lemongrass essential oils successfully repelled wasps. You can try applying these oils by mixing several drops of each with water and dish soap in a spray bottle and coating areas on the outside of your home where wasps like to build nests: under eaves, porch roofs, and other ledges and crevices.
Plain Soap and Water
According to Chris Walker, an eco-friendly wasp removal expert in Southeastern Pennsylvania, you can tackle small hanging nests with a mixture of about two tablespoons of dish soap in a spray bottle filled with water.
Peppermint Oil
Peppermint oil may also be effective at repelling wasps, according to the same study from the Journal of Pest Management Science. You can try applying it as described above, or you can purchase EcoSmart Organic Wasp and Hornet Killer, which is mint oil-based, to target established nests
Wasp Traps
Wasp traps work by luring the insects inside a container with some tempting treat, like sugar water, and then preventing them from escaping. You can make one yourself in about five minutes by sawing the top off a two-liter bottle and inverting it inside the bottom, or cutting a small hole in the top like this.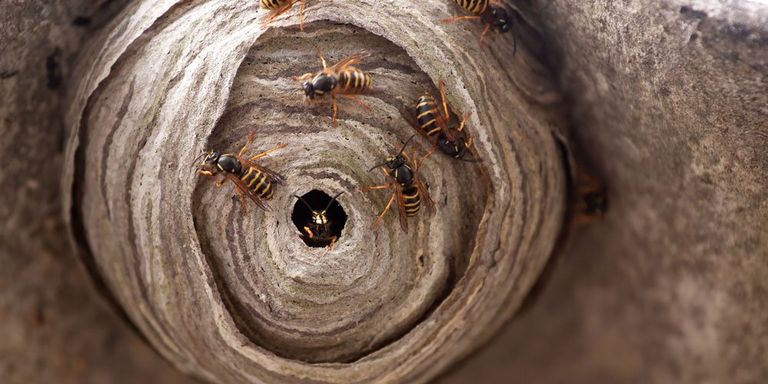 Wasps: DO's and DON'Ts
Wasps' behaviour changes in late summer as their preferred food shifts from sugars to proteins. Because of this, you will more likely encounter them wherever food is consumed outdoors and around garbage collection areas.
If you notice large numbers of wasps in your home or garden, there is likely to be a wasp nest nearby. It may be in your house, in your garden or very close by. A mature nest in summer/autumn can contain thousands of wasps. When they do attack, most wasps, yellow jackets and hornets are aggressive and will sting REPEATEDLY
Should I remove wasp nest myself?
It is important to treat a wasp nest as soon as possible. Removing a wasp nest is a complex process and requires professional help. To avoid the risk of painful wasp stings (and possible allergic reactions), we strongly advise you not to try to remove a wasp nest yourself. Remember, you could cause serious injury to yourself or others if you provoke the wasps in the nest.
Paper wasps: This is an open nest with hexagonal cells. It usually has an umbrella shape and may contain fewer than 100 paper wasps.
Hornets: A hornet nest has a football shape surrounded by smooth walls.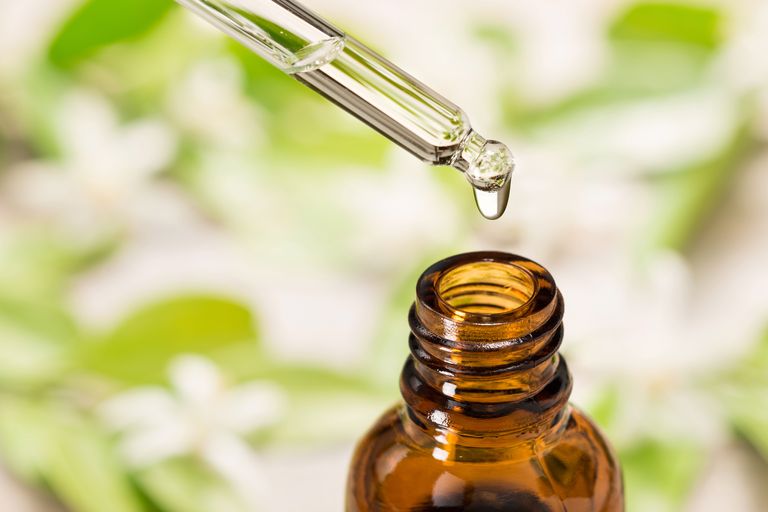 How to Get Rid of Wasps
Wasps are a frightening pest for many people. Setting up their nests near homes, they fly swiftly around doors and entryways and pack a powerful sting if they feel threatened.
Yet not all wasps sting, and they are a beneficial insect in some ways. Without wasps eating insects, there would be a gaping hole in the food chain. With about 30,000 identified wasp species, some are more common pests for humans than others. All this makes it important to know what kind of wasps are causing you problems before you attempt to get rid of them — or even they are wasps at all. Learning more about bees and wasps is key in safely ridding your property of an infestation.
Differences Between Bees and Wasps
Bees have robust, rounded bodies made up of one section, whereas wasps are slender and have a tapered waist area that connects their thorax to their abdomen. Bees are hairy, while wasps are more smooth and shiny. Bees feed on pollen, while wasps feed on insects. If you see something buzzing near a flower, it's more likely to be a bee than a wasp. Honeybees die after stinging, whereas wasps can sting and fly directly away.
Physical Characteristics of Wasps
Wasps all grow up to about 1.5" and vary in size by species. However, their bodies are all composed of a head, thorax and abdomen separated by a tapered waist. They have one pair of wings, one pair of antennae, and six legs. All female wasp species have venom which they inject into their victims when stinging them. Only females can sting, and their stingers are located at the very end of their bottom half. This stinger also doubles as a reproductive organ through which the wasp can lay eggs.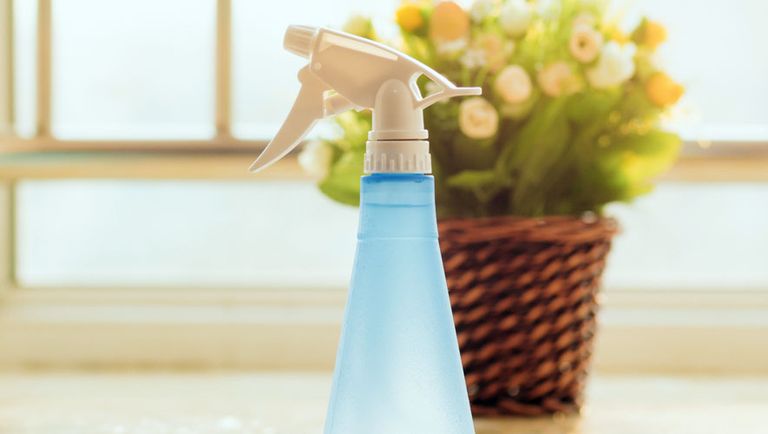 How to get rid of wasps: quickly and sting-free
Learn how to get rid of wasps and you'll be able to avoid the most annoying of garden visitors. Wasps start to build their nests in spring, so if you've noticed lots in your garden then now is the time to get rid of them. By summer, they could have built up a nest that you'll need to call in the professionals to deal with.
As is the case with most household pests, a wasp infestation can be pretty unpleasant, especially because of the risk of them stinging you. Luckily, there are a few things that can be done to ensure your wasp enemies stay away.
HOW TO GET RID OF WASPS
If there's one thing guaranteed to ruin every garden sunbathing session/BBQ/afternoon siesta, it's pesky wasps. Numbers of these annoying insects start to rise in the spring and peak in summer, which explains why we've started to notice so many of them in our gardens. Unlike bees, wasps don't die once they've stung you and can sting many times, it means you need to be extremely careful when trying to get rid of them
Shut your bins: Open bins will attract greedy wasps looking for a sweet meal. Keep you bins away from the house if you can and make sure the lids are always on properly.
Protect your home: Keeping your windows and doors shut will stop wasps entering the house. If it's too hot and you don't have an air conditioning unit, consider investing in a fly screen for your doors

tips for waging war on wasps
Orange Crush is a good bait for wasps at this time of year, as well as cream soda. He says anything syrupy sweet works.
Toward fall, wasps will be out for blood. "As we get closer to cold weather they're going to switch over the proteins," said Sherwood. He finds the raw blood from ground beef attracts wasps well.
Wasp traps do work, to a point. Commercial traps and homemade traps, like the ones made out of pop bottles, work to stop wasps from sharing your picnic. But they don't kill the colony.
Paper bags and products made to look like wasp nests will deter wasps, but they must be put up in mid-March when juvenile queens are looking to nest.
Insecticidal foam commercial products work to kill a nest. You spray some foam to plug up the opening where wasps come in and out. Then you stick a straw in the nest and pump it full of insecticide.