Non-toxic Ways to Clean Mold with Natural Cleaners
Mold may be growing in your home and you don't even know it, that's because mold loves dark, warm, humid places to live. Your basement, kitchen and bathroom are at the most risk for mold and bacteria growth because they are in constant contact with moisture. When the conditions are right, mold can grow within 24-48 hours. Leaving mold untreated can cause respiratory illnesses as well as be a major factor for year-round allergies. This is why it is so important to kill mold at first sight.
You'll need the following cleaning supplies:
Hydrogen peroxide
Scrub brush
Rubber gloves to protect your hands
Vinegar
Spray bottle
Here are 3 household solutions for cleaning mold:
Hydrogen Peroxide
Hydrogen peroxide is an anti-fungal, anti-viral and anti-bacterial solution that kills mold effectively on a variety of materials such as kitchen appliances, bathroom fixtures, floors and walls. To kill mold: Pour 3% concentration hydrogen peroxide into a spray bottle. Saturate the moldy surface completely and leave it to sit for 10 minutes. Next, scrub the area to remove all of the mold and mold stains. And finally, wipe the surface down to remove residual mold and spores.
VinegarVinegar is a mild acid which can kill 82% of mold species. (Baking soda is often used along with vinegar for killing different species of mold).
To kill mold: Use white distilled vinegar and pour it into a spray bottle without watering it down. Spray the vinegar onto the moldy surface and leave it to sit for an hour. Finally, wipe the area clean with water and allow the surface to dry. Any smell from the vinegar should clear within a few hours.
Baking SodaBaking soda is a mild, white mineral powder, that can be used to kill mold in your home, plus it is safe for your family and pets. Besides killing mold, it will absorb moisture to help keep mold away.
To kill mold: Add one quarter of a tablespoon of baking soda to a spray bottle of water and shake until it has dissolved. Spray the moldy area with the baking soda and water solution, then use a scrub brush to remove all the mold from the surface. Next, rinse the surface with water to remove any residual mold on the surface.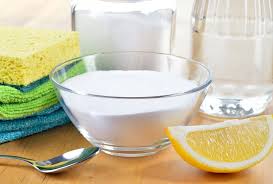 Cleaning Mold with Vinegar
White distilled vinegar is effective for killing small amounts of mold.  It can kill over 80 percent of mold species commonly found in your home and as a mild acid, it can help prevent mold as well as remove it.  Make sure you follow these steps when cleaning mold with vinegar:
Protect yourself from exposure to the mold by wearing protective gear such as gloves and a mask.
Pour the vinegar into a spray bottle but do not dilute it. Diluting the vinegar will reduce its effectiveness.
Spray the moldy areas and let the vinegar sit for an hour so that the mold can absorb it completely.
If you need to scrub the mold, do so with a baking soda solution. Pour 2 cups of water and 1 teaspoon of baking soda into a spray bottle and shake well.
Spray the moldy area with the baking soda mixture and use a scrubbing brush or scouring pad to scrub the mold. Wearing protective gloves will protect you from direct contact.
Use clean, warm water to rinse the area.
Spray the vinegar again over the area and let it dry naturally to make sure all the mold has been killed.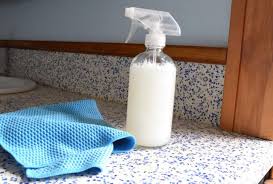 Removing Mold From Interior Walls, Flooring, and Carpet
If the mold is fuzzy and black, it may be much worse than just unsightly. The area should be opened to check for structural damage. Wear safety glasses and respiratory protection. All building materials should be bagged in heavy-duty plastic bags and disposed of properly. Allow the area to dry out thoroughly and make any needed repairs.
To clean porous surfaces like wood and drywall, a detergent should be added to the bleach and water solution to help it adhere. Mix one part dishwashing detergent, 10 parts bleach, and 20 parts water. Apply with a sponge or mop, trying not to over-saturate the surfaces. Do not rinse away, and allow the solution to air dry.
Carpet with mold or a musty smell should be removed completely. Wearing a respirator, cut the carpet and pad into small sections. Mist the materials and underflooring with water to help prevent the spread of airborne mold spores. Wrap the carpet in heavy plastic for disposal. Use a wet/dry vacuum to thoroughly clean the area and allow to air dry for several days before replacing flooring.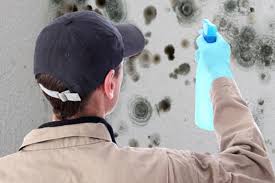 Preventing Mold from Returning
Spray vinegar and leave it to help prevent future mold growth.
You do not have to wash the vinegar away. Once the surface is clean, you can spray it with vinegar and leave the vinegar on the surface to keep the mold from returning.
Keep a spray bottle of vinegar in your shower and spray the surface every few days.
Mop your floors with vinegar to prevent mold growth in damp areas.
Fix leaks in your home.
Leaks can occur in your roof, your plumbing and seep in through your window. Clean any spills and address these problems to keep you home dry and free of mold.
Check your roof for leaks and replace the roof or fix an area which may be allowing the damp weather into your home.
Fix any plumbing issues as soon as they happen to prevent water from dripping and spilling.
Check the seals of your windows and replace any which are allowing dampness to get through.
Control the level of humidity in the area of mold growth.
You may need to invest in a dehumidifier if you live in a humid area or have a part of your home which lacks ventilation and tends to be damp and attract mold.
Ventilate areas which can become damp.
Mold thrives in damp, dark places. Allow air and sunlight into damp spaces as much as possible in order to control mold. Turn on fans when you are cooking, showering, or doing laundry.
The kitchen, bathroom, and laundry room should be equipped with ventilation systems.
Clean your air conditioner regularly.
Air conditioners contain drip pans, which gather excess water. Empty and clean this pan regularly to keep mold from forming and blowing into your home.
Cut power to the air conditioner before you clean the drain pan.
It is easiest to remove the water with a wet/dry vacuum to avoid spilling.
Once you have removed the water, scrub away any debris or mold which may have formed in the pan before you return it.
Fabric and Upholstery
Before you give up on any fabric that has fallen victim to mold growth, try the following procedure, which may allow you to salvage the item after all.
First, take the moldy item outdoors so that its mold spores cannot spread throughout your home. Next, use a stiff-bristled brush to clear away as much mold as you possibly can. Now pretreat the item with either bleach (white fabrics only) or a store-bought stain remover designated for use on the type of material in question. Finally, wash the fabric in hot water. When you take the item out of the wash, check it carefully for signs of lingering mold. More than one round of pretreating and washing may be necessary.