Easy Tips for Choosing the Right Faucet
Choosing a faucet can be tricky. It may seem like a strictly functional piece of hardware in your kitchen, but the truth is that your faucet is often a major focal point to the space.
style
Think about your the general style of your kitchen as well as the style of the sink that you have selected. Pairing a cast iron farmhouse sink with a super modern faucet may not work together unless you are going for a very edgy or eclectic look. Similarly, a strongly modern stainless sink would not suit a traditional bridge style faucet.
Finish
Faucets generally come in three main finishes: chrome, nickel (or other brushed metal), or bronze. Consider the nearby cabinet hardware, as well as lighting and other metal finishes in the space. It doesn't all have to match exactly, but choose a faucet whose finish works well with the other finishes in the space. Because I chose chrome and nickel finishes throughout the space in the cabinet hardware and lighting, I selected a chrome faucet to complement these finishes
Spout height and reach
Faucets with a high arc are very on trend these days… but you need to consider the amount of space you have above your sink. If you have low cabinets or shelves above the sink, you may not wish the arc to be too high. Another thing to consider is the size of your sink…. a large sink may require you to select a faucet with a larger reach. The farmhouse sink that we selected is quite wide and deep, so choosing a faucet that had a spray option that would reach all the corners of the sink easily was critical
Sprayer options
A sprayer on a faucet is an amazing tool… a good sprayer can remove all kinds of gunk and mess for you, and it also can help to keep your sink cleaner. Often faucets with a separate side spray are not as convenient or effective as a sprayer that is built into the faucet itself. Some faucets, such as the one we chose, even have a little button on the faucet head to turn the spray on and off making this feature super convenient and easy to use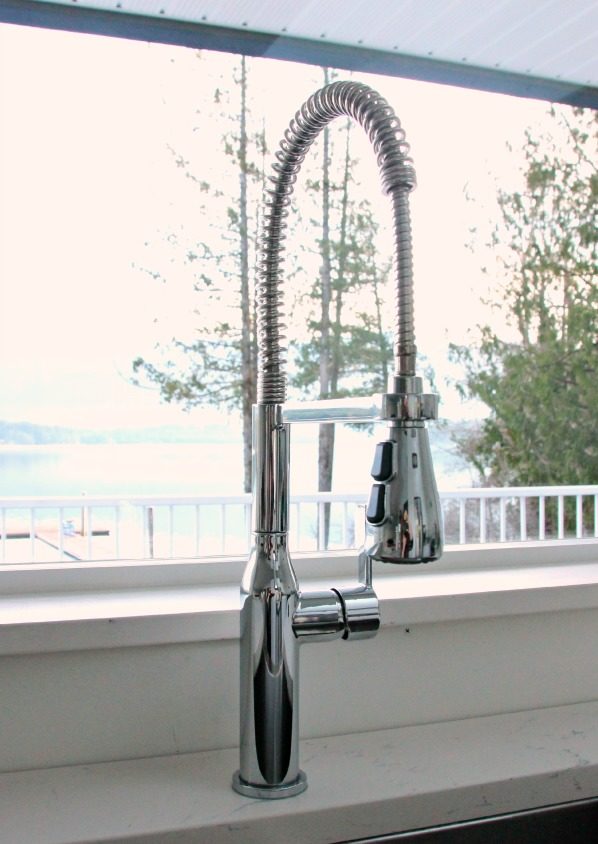 What to Look for When Searching for Your Next Kitchen Faucet
Your Kitchen is Your Command Center
Prepping for spaghetti night. Bathing the baby. Watering the plants. It should come as no surprise that you spend more active time in the kitchen than any other room in the house. And from selecting a finish to starting installation, there are plenty of things for you to consider when choosing your next kitchen faucet.
Think About What Goes on in Your Sink
When it comes to taking care of business in the kitchen, you need a faucet that's built to handle everything you throw at it. Think about your everyday experiences and then see how the right combination of features — including handles, spout height, and sprayers — can help you create a space that works your way.
Hands-Free Convenience
Touchless Kitchen Faucets with MotionSense™ feature touchless activation, allowing you to easily turn water on and off with the wave of a hand.
Keep Everything in Reach
Whether you're rinsing down the corners of your sink or cleaning fresh veggies from the garden, a faucet with the right sprayer helps make quick work of your kitchen tasks
Get Smart About Arcs
Have you ever shimmied a large pasta pot under a low spout or had your window view interrupted by a high spout? if so, then you understand how important it is to have a faucet that's just the right height.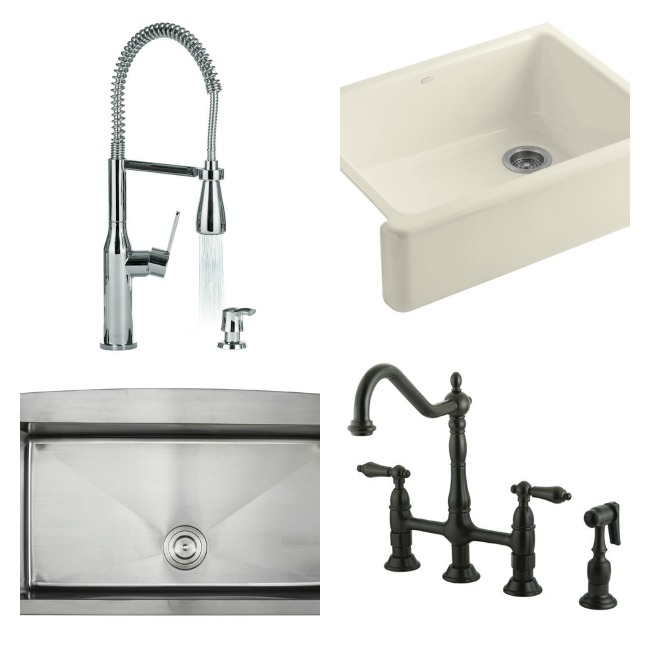 TIPS ON CHOOSING THE RIGHT KITCHEN FAUCET
Few people would argue that the kitchen is the hardest working (and most "hung out in") room of the house. So when you're doing a kitchen renovation, how do you ensure you're making the most out of the type and placement of those relied upon faucets?  Here are a few tips on how to choose those faucets, and maximize the placement of them in various areas throughout the room
A big faucet for the big jobs
The main sink of the kitchen is often used for the "heavy lifting" of kitchen duties — washing dishes, cleaning large pots/pans and much more. We suggest putting a faucet at that sink that also serves as a statement piece. Maybe it's a commercial-grade oversized faucet such as the Danze Parma Pre-Rinse Faucet or a tall pull-down faucet. Whatever your preference, take this opportunity to set the style of the room, which is just as important as the functionality this piece will bring to those big jobs.
Bring water to the stovetop
Pot fillers have grown in popularity in recent years and there's no question why. For relatively little effort during a renovation (run a single cold water source to behind the stovetop area), you have the added convenience of a wall-mounted pot filler. Perfect for adding water to boiling pots, a dirty pan and other purposes, these beautiful faucets making cooking that much easier and fun
Maximize the island
More and more homeowners are adding a second sink to the kitchen by placing one within the island. For at-home chefs, this is a great way to stay connected to guests while prepping food, washing vegetables and simply keeping the kitchen duties moving. Danze offers one of the only deck-mounted pot fillers on the market — perfect for island applications. If a pot filler isn't for you, choose a small to medium-scale faucet (maybe a pull-out or bridge faucet with side spray) that helps maximize this important area of the room's footprint.
Create a convenient bar
As homeowners choose to entertain more and more at home, a secondary (or convenience) bar area adjacent to or right within the kitchen has become a popular choice during renovations. Stylish, yet modest faucets are often chosen for these sinks to stay within scale of the area, yet provide the convenience and functionality that is required once guests arrive.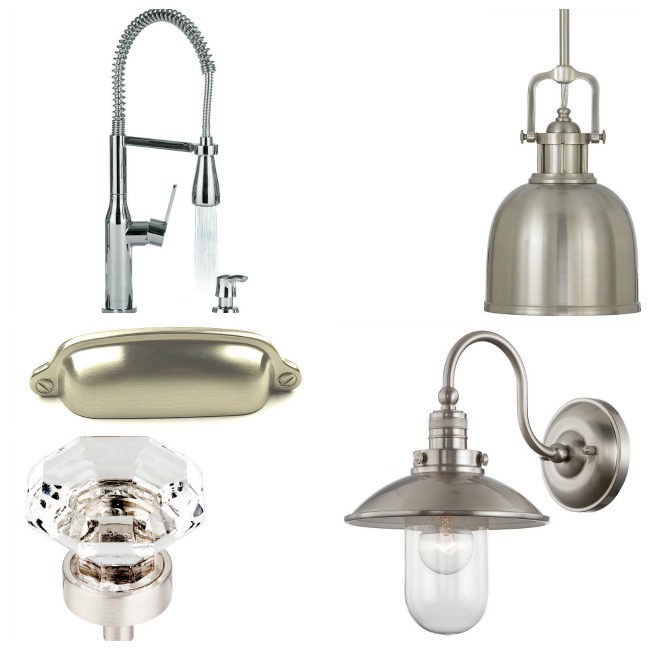 TIPS FOR CHOOSING A KITCHEN FAUCET YOU NEED TO KNOW BEFORE YOU BUY
Not so fun fact – I've gone through 4 kitchen faucets in the last two years. It's been a frustrating (and pricey) lesson that not all faucets are made equal. With my new kitchen renovation, I wanted a faucet that not only provided style but functionality too, here are a few things to consider when choosing a kitchen faucet.
CHOOSING A KITCHEN FAUCET
Know how many holes you have. You may need a deck plate to cover any existing or if you only have one, you may need to drill into your countertop. It's easier to go with less than more
Keep the finish of your hardware in mind. I personally don't believe there are any hard and fast rules when it comes to home design but, personally, I prefer my kitchen faucet to match the finish of my kitchen pulls and handles. It's easy on the eyes and makes the decor aesthetically appealing.
Spray features. When it comes to choosing a kitchen faucet, the more spray options the better. I don't want a trickle, I also want a jet steam so I easily clean stuck on food.
Faucet height. Most faucets are in front of a window, but if yours is below cabinets – take some measurements before you buy.
Hose length. This is a feature that I missed the first few times I was choosing kitchen faucets. Take into consideration the size of your sink (my old sink was a large one, and I couldn't stretch the hose enough to clean the bottom corner), if there are any plants nearby you would like to easily water, or if you have coffee maker next to the sink to easily fill (I can't be the only one who gets annoyed when I have to take the reservoir out of my Keurig each time).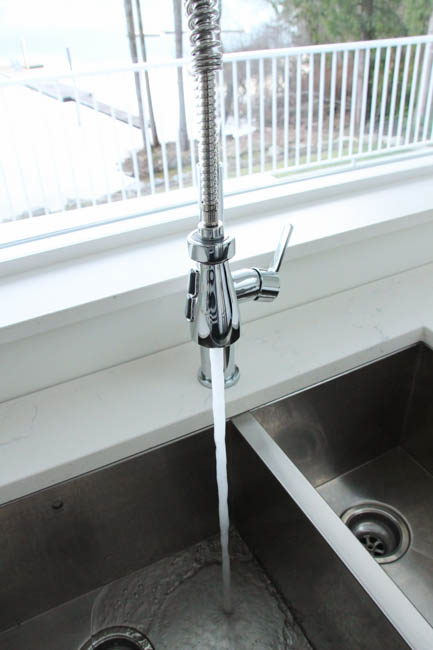 Tips for Selecting a Kitchen Faucet
Height and Reach
Kitchen faucets are available in a variety of heights and reaches. You want to choose a faucet that offers the best combination for your space. If you have large cabinets over your sink, you want to make sure that the height of the faucet doesn't make the space look overcrowded.
Kitchen Faucet Style
You need to choose a style before you start shopping for a new faucet. Take a few minutes to look around your kitchen and gauge your current style. There are some styles that you mix and match together and others that look awkward together. For example, you can add a modern shape and style faucet to your traditional kitchen, but it would look odd if your style is rustic farmhouse.
Sprayer Options
You already know that you want a sprayer to reach the gunk that lurks in the corner of your sink, but there are so many kinds. You can choose between a side sprayer and one that pulls out from the faucet. The central sprayer is easier to use and helps keep your sink area looking tidy and efficient.
Number of Handles
Most faucets come with either one or two handles. With two handles, you use one to turn on and control the flow of water while the other handle provides hot or cold water. If you choose a faucet with only one handle, water flow and temperature are controlled with a single handle, making it very convenient in a kitchen
Number of Holes
Most sinks come with pre-drilled holes in them. There are typically two or three holes, and if your new faucet comes with fewer pieces to fill those holes than your previous faucet, then the holes need to be covered. Many faucets come with bridge pieces to cover a hole, but it's a good idea to check the packaging if you're going to need a cover to ensure it's in there. For example, your old faucet had a side sprayer while your new one has a pull-down sprayer. The hole for the side sprayer is now empty.