When Is the Right Time for Kitchen Deep Cleaning?
The Best Time to Clean Every Part of Your Kitchen
Raise your hand if you feel like, despite your very best intentions, your kitchen is messier than you'd like it to be. I'm right there with you. And it makes sense! The kitchen is the very center of your house. No matter how comfy your living room is, chances are people are always hanging out in the kitchen — or helping themselves to food from the fridge — which leads to major messes.
There are, however, a few little things you can do throughout the day to stay on top of things. Follow this plan to keep the space a little cleaner than usual.
Morning
Take advantage of being well-rested and do a little bit of tidying first thing in the morning. You can even do these tasks while you wait for the coffee to finish brewing.
Unload the dishwasher or dish rack. If the dishwasher is empty, people will be able to put their dishes right in instead of letting them accumulate in the sink. And an empty dish rack means the dishes have a place to go once they're cleaned later in the day.
Refill any empty canisters that hold your coffee grounds, beans, pasta, or sugar.
If you packed lunch for yourself or any other family members, make sure the ingredients are put away, the utensils are in the sink or dishwasher, and the crumbs have been wiped up.
Have a few extra seconds? Go through and toss any suspicious-looking leftovers in the fridge or check your fruit bowl and get rid of anything that's a little too ripe.
Before Dinner
If you happen to work from home, you can do these things at lunchtime. If you work in an office, make sure you do these little chores before you start making dinner.
Move breakfast dishes to the dishwasher. Again, you want to have a place for new dishes to go as you dirty them.
Clean your coffee or tea tools. Chances are, you had a few cups and then headed out the door in the morning rush. Clean out the used grounds, wash out the pot, and consider setting things up for coffee the next morning.
Dampen your sponge and microwave it to kill bacteria and microbes. Just be sure to keep an eye on it.
After Dinner
Welcome to the heaviest kitchen cleaning you'll do all day. You gotta eat, so once dinner is done, it's time to clean up. While it might sound pretty miserable to clean on top of cooking dinner, do not leave it for the morning. "Morning You" will not like that!
Load the dishwasher and don't forget to run it! Not running it will throw off this whole cycle.
Wipe down the stove and counters. Fresh spills are always easier to clean. Include the cabinet fronts in this task. Sometimes spills get sneaky and make their way onto cabinet facings.
Wipe down the front and handle of the fridge. These spaces can get disgusting real fast.
Clean the sink and the hardware on your sink. Clear the drain, too. The more your stay on top of this, the less of a deep cleaning you have to do later on.
Take out the garbage and recycling, so it doesn't accumulate and so you don't have to do it in the morning.
Sweep or vacuum crumbs off the kitchen floor. You don't want to step on them in your slippers in the morning.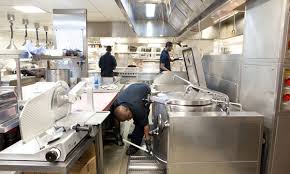 Clean & Organize Storage Cupboards
Remove all items from remaining storage cupboards or shelves and place on countertop or kitchen table.
As you remove items, toss or donate any items that are broken, unwanted, unnecessary, or that you haven't used in over a year.
Set aside any seasonal items that only get used once or twice a year to be placed with other seasonal items in storage.
Wipe down all shelves with soapy water or kitchen cleaner.
Determine whether you can rearrange any of your storage areas to make your kitchen more efficient.
Group like items together and place back in cupboards.
Put seasonal items in storage and bring donation items to local drop-off as soon as possible.
Cleaning out The Refrigerator
One of the biggest projects to tackle during your kitchen . As a home to perishable foods, it's often prone to spills, leaks, and rings left behind from containers. For a serious clean, we recommend removing everything inside and giving the bins a good soak with baking soda and water. For a stainless-steel exterior, mix one-parts vinegar to two-parts water and wipe down with a microfiber cloth
Cleaning Pantry
Pull out all items
Trash any expired, old, stale or inedible food
Donate any unopened food you don't want
Transfer open items to jars or containers
Combine like half-used containers
Wipe down pantry shelves
Replace any tattered shelf liners
Clean any organizers
Place items back into pantry neatly
Wipe down pantry door and knob
How to Clean Kitchen Cabinets
Every once in a while, all kitchen cabinets need a good deep clean to keep them in tip-top shape. These step-by-step instructions for cleaning your kitchen cabinets make it easy to tackle this project.
Empty your cabinets inside and outside.
Make a cleaning solution by mixing equal parts white vinegar and warm water in a spray bottle. If your cabinets are particularly grimy, add a few drops of liquid dishwashing detergent. If you have stone or granite cabinet knobs, swap the white vinegar with rubbing alcohol.
Spray the outside of the cabinet doors with the cleaning solution, letting it sit for a minute or two.
Using a microfiber cloth, wipe the cabinet doors clean. If dirty spots remain, repeat the process a second time.
Open the cabinet doors and spray the inside of the doors and the shelves with the cleaning solution.
After letting it sit for a minute or two, wipe the cleaner off with a microfiber cloth.
Get out a clean cloth, wet it with clean water and wipe all the surfaces you cleaned.
Use a clean towel to dry all surfaces thoroughly.