Tips for Remodeling Your Kitchen
Smart Planning & Organization
Before you begin remodeling your kitchen, determine how and where you will use your kitchen items. For instance, store breakfast bowls and food near the breakfast table. Keep plastic containers and wraps in a handy place near your work surface for wrapping leftovers. Locate flatware and dishes near the dishwasher to ease the process of unloading
Design Wide Walkways
Create paths throughout your kitchen that are at least 36 inches wide. Also, walkways in the cooking zone should be 42 inches wide for kitchens with one cook, and 48 inches wide for configuring the area for two cooks. When you are in the design/planning process, adjust peninsulas and kitchen islands accordingly.
Plan the Correct Height for the Microwave
The best location and height for a microwave depends on the primary chef and the degree of kid-friendliness that you desire in your kitchen. For adults, the microwave should be roughly 15 inches above countertop level. For kids, you might consider a below-countertop setup for safety and suitability.
Stay Clear of Corners
For appliance and cabinet doors to be fully functional, make sure you plan enough space for clearance and swing direction in your redesign. Keep appliances away from corners and ensure that doors do not bang into each other when opened at the same time.
Determine the Function of an Island
When you plan a kitchen island, remember that form should follow function. If you want to eat and cook on kitchen islands, make sure you plan enough space to separate the cooktop safely from the dining area.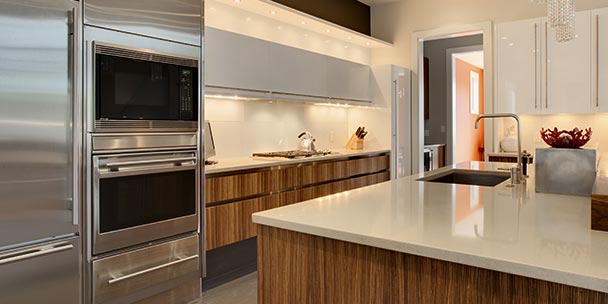 The Ultimate Kitchen Remodeling Guide
Set Your Budget Before You Remodel a Kitchen
As you go about planning the new kitchen, be realistic about the cost. Large renovation projects often end up taking more time and money than you plan for, so it's a good idea to aim for a conservative budget beneath your max budget to ensure there are extra funds if your project goes over. A good rule of thumb is to add another 10 to 20 percent for unplanned expenses. The more financial cushion you have, the better. You don't want to be scrambling for an additional loan mid-project, or worse, end up with a half-finished kitchen because you ran out of cash.
Do Some Research
Visit kitchen showrooms and home stores to figure out the cost of items, and then figure out what you need and what you can afford. Attending a neighborhood home tour is a great way to connect with other homeowners and observe their kitchen layouts and renovations
Consider "Hidden" Costs
Remember to factor in the cost of labor and materials as well as taxes and any shipping or delivery costs that might come up. These can add up very quickly, so it's important to take them into account when you're setting the budget. Also, consider if there are any steps along the way that you would like to perform yourself. Even taking on just a few tasks can save you a significant amount of money.
Aim for Quality
Always buy the best quality materials you can afford. When it comes to kitchen renovations, you want to have high-quality, functional items, both for your own use and for potential resale value. High-quality cabinets, countertops, and appliances will also last much longer so hopefully you will never have to repeat the renovation process again while you are living in the home.
Evaluate Your Needs vs. Wants
Be practical and don't buy unnecessary items. It can be tempting to buy all sorts of gadgets and fancy appliances, but it's better to go with the reliable basics that you know you'll use. Remember, with every new appliance comes a slightly higher utility bill. They also add to your upkeep responsibilities and require time and money to maintain.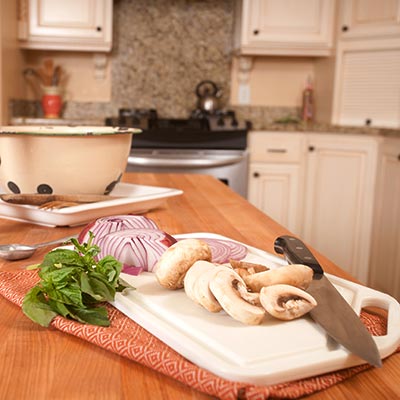 Tips for Renovating Your Kitchen from Design Pros
Function First
"Think about efficiency. About how you actually use the space," Gambrel says. "If people have all the room in the world—like when they're planning a kitchen in a new home—they think more is more. So they make the distance between the island and the countertop broader. But that is not efficient." This kind of thinking, Gambrel points out, often makes cooking and cleaning more difficult. Yes, you want your kitchen to feel open, airy, and inviting, but you don't want to have to walk 15 feet from your fridge to your range. But what's the best way to set it up?
Light Up Your Life
Lighting: one of the most important things to consider when renovating or building a new kitchen. While lots of people go with recessed lighting in their kitchen, Gambrel recommends surface-mount fixtures that are attached to your ceiling on a grid: "The bulb is below the height of the ceiling, so you get a more even light and it's not as surgical as recessed lighting. It's also very beautiful." He also loves hanging bigger light fixtures over islands, another functional decorative opportunity. And don't forget that cabinets can block light from falling onto your countertops. "Planning for some under-cabinet lighting is important," Roberts adds. "Make sure you have a switch and some power outlets dedicated to that."
Your Stove Is Your Statement Piece
"Your stove is the designer handbag of the kitchen," Roberts eloquently explains—a comparison we majorly dig. "It's the most visible and the most used appliance." Both designers believe that if you replace and upgrade only one thing in your kitchen, let your stove be that thing. Stoves come in a myriad of styles and colors, giving you a range (heh, heh) of options. Also consider getting a hood for your range—an addition that'll help with ventilation and also make a statement. "If you have a big budget, you can have one made in metal like bronze or nickel," Gambrel says. "If not, you can buy a hood along with your stove, then have your contractor build a frame around it in plaster or stucco. It'd be great for any kitchen."
Consider Your Countertops
"Countertops need to be 24 or 25 inches, and it's best to have a little bit of an overhang, so dripping tomato sauce will fall onto your floor instead of onto your cabinets," Roberts says. Even aside from their function, countertops are a huge part of the kitchen, and they should align with your style. "Solid surfacing like Corian is great," she says. "They can be repaired and they can be installed in such a way that no leftover food can be stuck in the seams." But when it comes to natural countertops, Roberts says that nothing compares to marble. "It wears naturally, and there's something beautiful about that because it's a natural material. Hundred-year-old marble counters in an old Italian-villa kitchen—there's nothing like that beauty. You can see, after 100 years, where people have been working on that counter."
And Your Cabinets
Cabinets are just cabinets, right? Wrong! They're another opportunity to inject your style and make your cooking process more efficient. For example, you might want to forgo cabinet doors altogether. "Personally, I__'d rather have my dishes and serving pieces on open shelves,__" Gambrel says. "I can see everything, and make it more stylish that way, and I can organize olive oil and spices in a more artful way." Gambrel also notes that an open cabinet can quickly transform the spirit of your kitchen, making it more airy and interesting.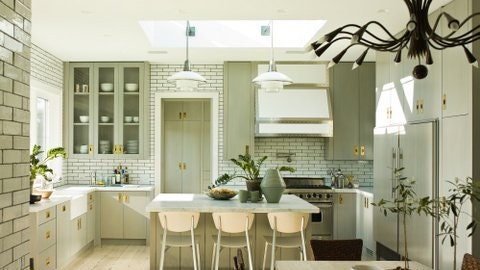 Kitchen Renovation Guide including Tips, Tricks, and Advice
Avoid adding square feet to your kitchen by expanding
Adding a room or even a small bump out to increase the size of your kitchen will be costly and complicated (permits, foundation work, framing, etc.)  Instead, see if you can find additional space in an adjacent closet, hallway, sun room, etc.  Large, open, kitchens are the current fad, but that may not always be the case (especially when you go and sell in twenty years).  Plus, you don't need a huge kitchen to cook great food and you'll avoid being a slave to your general contractor for 6-12 months.  Kiplinger Magazine even offers the same advice!
Splurge on cabinets and flooring
If there are two elements of your kitchen that will take the most abuse it's your floor and cabinets.  Opt for solid wood cabinet faces and full plywood box construction.  Also, look for drawers that have dovetail joinery and bulky mechanical slides (I like the Blum line of mechanisms and hinges, some Ikea cabinets even use Blum hings!).  I've found that it doesn't really matter who the cabinet company is, but very important if they incorporate the above construction and design items into their product.  On the flooring side, avoid hardwood floors (it just doesn't make sense in a room that will see tons of foot traffic, spills of all sorts, water, etc.)  Instead opt for a Porcelain tile or possibly a natural stone surface (though the latter will require sealing).  Hardwood floors are nice to stand on because they give a little and help with back pain, but it's no substitute for the resilience of a solid, and indestructible, tile surface.
High end appliances don't always perform better
It's a fact that a $10,000 Viking stove will not boil water faster than a $500 Amana stove, however an industrial will often give you additional burners, beefier construction, and the looks most folks desire in a high end kitchen renovation.  We opted for a duel fuel Wolf stove (6 burner) (click here for my Wolf 36 inch six burner review) and it has worked very well thus far, however the stove is very difficult to clean and the large oven takes a long time to reach temperature.
Gut it
Just like I advocate in my five tips on bathroom renovations, it's best if you gut your existing kitchen so that you can re-wire, re-plumb, level the floor, look for potential problems, etc.
DIY within reason
Professionals cost money and general contractors cost even more.  I would stay away from hiring a general contractor and opt for a 50/50 job where you outsource to professionals for technical tasks (new gas line, installing cabinets, etc.)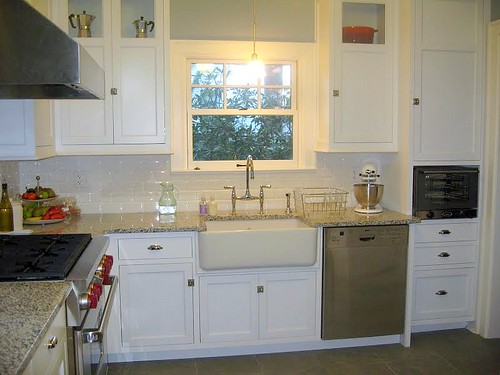 The Perfect Time For Your Kitchen Remodel
Your kitchen is a practical, highly-used space that you should truly enjoy living in each and every day. Keeping it updated and to your liking can seem frivolous, but what space could be more important in our daily lives? We're willing to spend out for a comfortable bed to keep us rested and healthy. Shouldn't we invest in kitchens that help us live healthier and more comfortable as well?
When you upgrade your kitchen, the efficiency, style, and value of your entire home will improve along with the quality of your own lifestyle. And so we think now is the time to remodel your kitchen. These three primary reasons to consider updating your kitchen, including efficiency, beauty, and investment; all can and will streamline the way you and your family use the kitchen. The industrial kitchen below contrasts with the bright, light-colored kitchen above, but they are both beautiful and customized gathering places at the heart of the home.
Do It For Efficiency
All aesthetics aside, the most practical reason to redo your kitchen is to increase efficiency. This may not be the most glamorous or exciting of reasons to commit to a kitchen remodel, but it is quite possibly one that you will appreciate the most while you live in your home.
Improve Your Quality of Life
Looks aren't everything, but don't write them off. A beautiful kitchen has very tangible benefits. A design you love will impact your daily lifestyle — after all, most people spend a large percentage of their time at home in the kitchen, even if they aren't cooking! The image above is the perfect example of a kitchen remodel that also fosters an environment to gather round during food prep.
See the Rewards
It's your life: see the difference a kitchen remodel makes on your whole lifestyle, not just the building you call home! This kitchen remodel shown below has a great, personalized touch of teal in the accessories and window treatments that show off the taste of the homeowner in a subtle, professional way.