How Much Does It Cost To Repair Stucco?
Stucco is one of the more long-lasting options as a siding for your home. However, despite its longevity, it can occasionally become damaged. Harsh weather conditions and accidents can chip, crack or warp stucco, making repairs necessary
Repairs should be done quickly to prevent damage to the underlying wood lath and prevent water penetration. Even minor cracks can lead to significant damage, so if your stucco is in need of repair, it is important to handle the situation immediately to minimize the risk of additional damage. Bonus Tip: If the crack or hole was caused by an underlying problem, be certain to fix the underlying issue before tackling the repair to prevent having to replicate the chore later.
DIY vs. Hiring Costs
The decision of whether to tackle stucco repair on your own or hire a professional to do the job depends on several factors. For instance, if the crack is a hairline crack or a small chip, you may feel comfortable using a stucco repair kit to do the job yourself. Or, if you have extensive masonry experience, you may decide to handle larger cracks and holes
Labor, Materials, and Installation
Because of the skill level required to repair and match the repaired material to the existing stucco, many contractors consider stucco repair to be a virtual art form. Labor costs are generally figured in one of two ways, either by the hour or by the square foot.
Labor Costs
Nationally, contractors charge anywhere from $40 to $50 per hour to repair stucco, or from $60 to $120 per square foot. The two main reasons for these costs are the complexity of the repair and the fact that it takes time, as it involves waiting for each coat to cure before proceeding to the next step.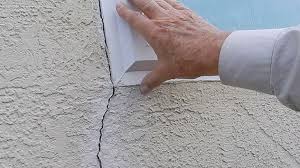 Stucco Contractors, A Few Hiring Tips
If you have a larger project, then you will likely be interviewing several stucco contractors. Narrowing down which ones will make sure that your project turns out the way you want it to can be somewhat confusing, not to mention the different bids you'll be getting, recommended repairs needed, texture and color samples, etc
References:
Ask to see a couple of jobs that the contractor has done in the past. Try to get some more recent jobs, within the past month or two, would be better and will show that they are still doing good work and people are still hiring them.
Stucco Supply Yard: The staff will know virtually every plastering crew in your vicinity and can make excellent resources. Just call and ask for 3-5 recommended plastering contractor's that they know do good work
Local Online Communities: These are a great place to get recommendations from actual people and can be found on sites like Facebook, various forums, etc. Try typing in "(your city) online community" into a search engine like Google and see what pops up.
General Contractors: General contractors will hire a stucco crew to complete any stucco homes that they are working on and will only hire the best contractors for their jobs. Ask how long they have used them for and if you can look at some of their previous work, this is a HUGE benefit for you.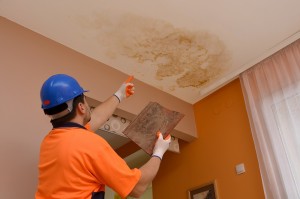 TIPS TO FIND THE BEST STUCCO REPAIRS
HOW TO REPAIR STUCCO CRACKS
Small, thin cracks in your stucco can be easily fixed with exterior latex paintable caulk. Choose a caulk color that is close to your stucco color. You may not find an exact match, but something close to it. If need be, you can touch up the caulked area with an exterior paint that matches your stucco color. Use a utility knife to cut the nozzle at a 45-degree angle, and place it in a caulking gun. Puncture the internal foil patch at the base of the nozzle with a nail or other slender sharp object. Hold the caulking gun at a 45-degree angle parallel to the crack being filled and pull the nozzle along the crack. Don't push it. Position the nozzle opening so that it forces sealant onto the crack. As you finish applying each bead of caulk, release the trigger and pull back on the caulking gun rod to stop the flow of caulk and relieve the pressure inside the tube. Releasing the trigger alone will not stop the caulk from flowing out of the nozzle. Let the caulk set for the manufacturer-recommended amount of time.
Repairing Stucco Cracks
Cracks in stucco are a common problem. Stucco, after all, is not very resilient–it's made of cement. So when a house settles over time or shifts because of heavy winds or earthquakes, the stucco siding cracks. The proper way to repair these problems depends upon their size
Hairline Cracks
Very fine, hairline cracks are very easy to fix. If they are super-thin, a coating of acrylic latex paint that matches the siding will probably do the job. If they are a little too wide for paint to fill the crevices, fill them with latex caulking compound first. Allow this to dry thoroughly, then paint the surface with acrylic latex paint.
Stucco can and should be sealed properly to prevent moisture intrusion.
If new, stucco can be sealed with a clear concrete/ masonry sealer, which will penetrate into the stucco and stop moisture entrance. These are typically silicone type sealers. While effective, these finishes will usually need to be redone every 4-5 years. Redoing sealing on a regular basis is what prevents deterioration and damage, which can lead to the need for full replacement.
Common Causes of Stucco Water Damage
Stucco damage is often caused by water. If you noticed that your stucco walls have blistering, staining, or mold, you could have water damage. Stucco siding is vulnerable to a multitude of issues that can cost you thousands of dollars. Here are the four common causes of stucco water damage.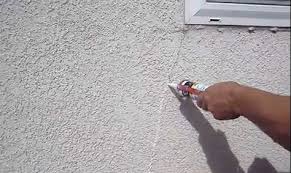 Home Tips: Repainting Stucco
The stucco on my home's exterior looks faded. What can I do to make it look new again?
Stucco, like many surfaces, can fade – especially when it's exposed to direct sunlight. But, making it look new again is easy. Quality paint can revive the look of your stucco, giving your home a fresh, new appearance
What if I want to completely change the color of my stucco?
No problem. Just like any surface (for example, wood siding), stucco can be repainted to suit your color preferences. If you want to achieve a darker shade than your original stucco color, and the surface is in good shape, quality paint can probably provide the coverage you need in one coat. Painting a lighter shade over a darker tone may require two coats. When selecting a new color, don't forget to coordinate with other exterior colors on your home such as shingles and trim.
There are so many exterior paint products on the market. How do I know which one will be the best for stucco?
Most exterior paint products are formulated for application on a variety of surfaces, from wood siding to brick and stucco. The knowledgeable sales people at Sherwin-Williams can tell you about products like Duration® Exterior Coating, and SuperPaint® Exterior Latex Paint. Just tell them a little about your home's exterior and your goals, and they'll help you select the coating that will best suit your needs.
Which are better, latex- or alkyd-based products?
Acrylic latex products perform the best on stucco. Most do-it-yourselfers find that latex products are easiest to use because they are easy to apply and they clean up with soap and water Acrylic latex paints also offer good gloss and color retention as well as good coverage that dries fast.
Do I need a primer?
If the surface of your stucco is in good shape with no exposed substrate, possibly not. However, if you need to make a lot of repairs, using a primer will make your finish coat look great and provide the beautiful, long-lasting results you expect. Ask the experts at Sherwin-Williams to help you pick the right product for the job.
STUCCO REPAIR COST GUIDE
There are many factors to consider when weighing stucco repair costs after discovering damaged stucco siding on your home. While certain approaches may cost you less money in the short term, they could leave you vulnerable to future damage, more costs and more headaches down the road.
WHAT IS STUCCO REPAIR?
Stucco repair usually refers to re-sealing the stucco around windows, flashing and joints, or removing certain "chunks" of damaged stucco and installing new stucco in its place. Compared to a stucco remediation job, in which the all the stucco siding is removed and replaced, stucco repair is more of a quick fix.
WHY WOULD I NEED TO REPAIR STUCCO?
Stucco failure usually results from water invading a home's exterior walls, causing damage to materials under the siding. Usually, failed stucco is a result of the original siding installation being done improperly, without the necessary moisture barriers in place. The first sign of serious problems is usually "tears," the greenish-black stains that appear to be "crying" on your exterior walls—especially near windows—that indicate moisture intrusion. Other indicators of stucco problems include musky odors near the stucco, large cracks and missing chunks of stucco.
TUCCO REPAIR COST FACTORS
Price is often a homeowner's first worry, but when you're weighing different stucco repair costs and options, it's important to see the full picture. The money you spend now could pay off in the long run.
INSPECTION COSTS – An inspection is a crucial first step in diagnosing the problem. Moisture meter readings involve inserting small probes in suspicious areas of your walls to determine the amount of moisture in the wall cavity. After the reading is complete, holes are caulked over and resealed.