Tips on How to Choose the Best Exterior Paint Colors
It is usual that we concentrate more on our interior designs. We want it to symbolize our individuality, but we seldom realize that it's the exterior that gives the viewer the first impression about your home and your personality. But choosing an exterior wall paint colour for Indian climate is not an easy job as there are a lot of factors depending on it
Combinations
When it comes to the exterior wall paint colours, stick to one or maximum of two exterior home painting colours, as more colours on the exteriors appear cluttered. If you feel that using a single colour will make your house a monotonous sight, then using different shades of the same colour is the best approach. These combinations will also give a good appeal to your house.
Choice of colours
One of the best exterior paint colour idea is to avoid black and other dark colours. These colours absorb dust and make you repaint your exterior wall paint frequently. However, it is better to use a pale shade of the dark colour and mix them with another light colour. Since the dark colours give a sense of dignity to the house, it can also be used to highlight the main features of the house.
Durability
The type of exterior home painting colour used will decide the durability of the paint colour irrespective of the colour. High gloss paints are not befitted for exterior wall paints even though it has the highest durability. For a perfect exterior wall paint finish, satin and eggshell are the best choices as they have high durability and easier to clean. These finishes also enhance your exterior paint colour ideas.
Effect of nature
Whatever colour and finish you use to your exterior walls, it will only look good if it blends with your surroundings. Especially people living in hilly regions and near the sea should spend more time on choosing their exterior wall paint colour. Their exterior wall paint should go with the mood and climate of their surroundings and backdrop. Cool colours are the best house painting ideas for houses in hilly regions as it suits the climate and the greeneries surrounding the house.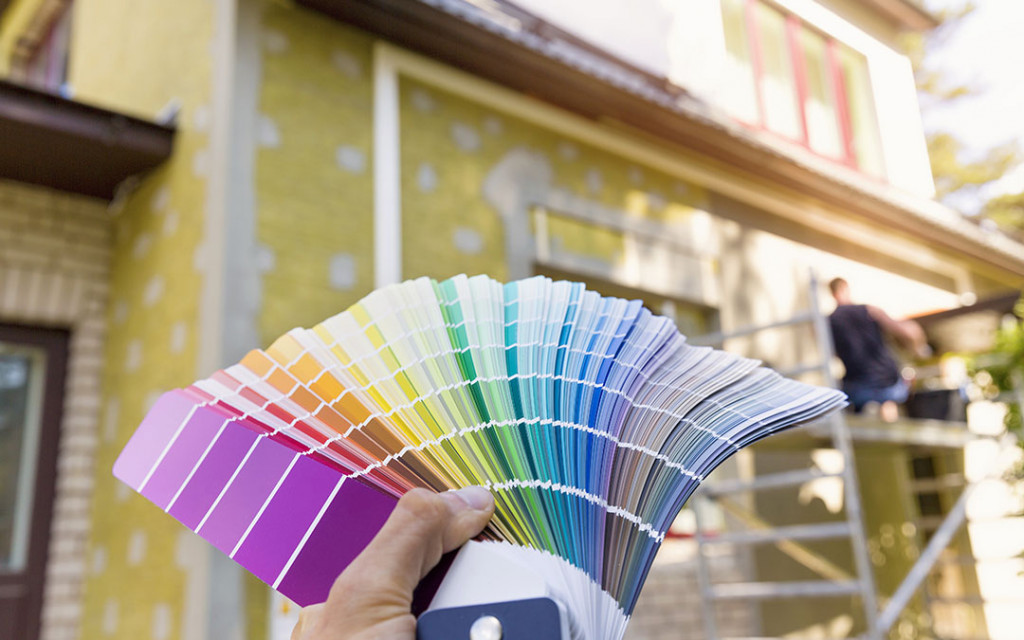 How to paint an exterior wall
There's some things you need to know when preparing and painting an exterior timber weatherboard wall. A splash of paint can make any surface look fantastic, and it doesn't take very much to do it. We'll show you how in a few simple steps.
Preparing the exterior wall
The first step is to take a good, thorough look at the wall. If there are any gaps between the boards, use the caulking gun to fill them up with filler and make a weatherproof seal. Use some rubber gloves while doing this so that it doesn't get all over your hands.
Painting the exterior wall
There's many different types of exterior paints available at your local Bunnings Warehouse. If you're not sure about which is best for your place, a Team Member in-store can help you choose.
Make sure you stir the paint in the tin before using it. Then, tip it out into a paint pot and give it another stir. Using the pot is means you don't need to carry a large tin around with you and risk spilling it unnecessarily.
Other helpful painting tips
If you're using acrylic paint, it's water-based, so get your brush wet first and then flick it off so that the paint won't stick to the top of the brush.
If it's above 30 degrees or below 10 degrees, don't start painting as it's too hot/cold for it to dry.
On a hot day, you'll notice the brush fills up with paint. To prevent this, clean it out with water every half an hour or so to keep it fresh.
If you're going to paint a downpipe a different colour to the wall, it's best to paint it first. Give it two coats and then you can wrap it in newspaper so that you can paint the wall behind it without worrying.
Consider using undercoat to increase the longevity of your wall and paint.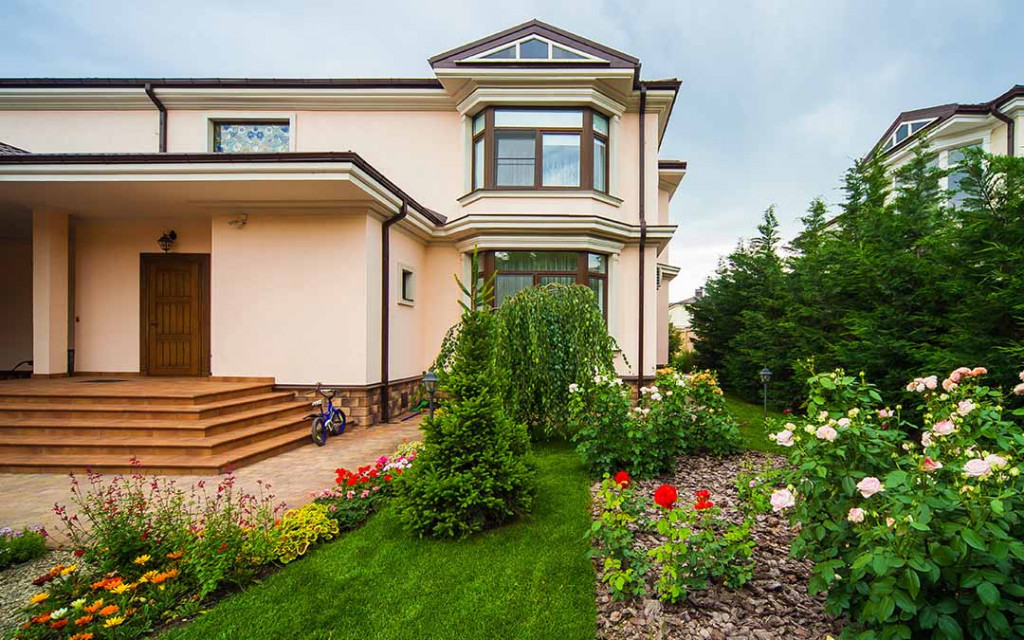 Exterior Painting
To a contractor, painting the exterior of a house is the best way to keep it in good shape. Caulk and paint may be a home's only weatherproofing, so it's essential that they be applied with skill. If siding is painted poorly, for example, it can incur very costly damage, especially in a harsh climate. Bottom line: Hiring professionals to paint your exterior may feel like a big expense, but it's nothing compared to what you'll pay later if the work isn't up to snuff
How Does Exterior Paint Stand the Test of Time?
While weather can be unpredictable, some regions offer especially harsh conditions for exterior paint. Subfreezing temperatures, sleet, storms, and punishing heat are just a few of paint's natural enemies. To make matters worse, no building stays put completely; every structure shifts over time, which can make things hard on an exterior paint job. Houses swell in hot weather and contract when it's cold, and wood cracks and warps all the time.
The amount of skill that goes into applying exterior paint strongly influences its ability to withstand the elements. Of course, it's also wise to use first-rate materials. The combination of expert work and top-notch products should minimize future costs for the homeowner. Good paint, well applied, also boosts a house's value — never a bad thing in the current economy
Painting Outside Surfaces
A successful painting project must proceed step by step. The first step is a scan of the house's exterior to determine what kinds of paint products will be needed.
Slow But Steady Creates Lasting Work
Every home exterior is unique. This means that your project may call for techniques and types of paint that your neighbor's didn't require. Stained wood exteriors demand the proper stain; cedar siding and redwood trim are common, but many other varieties exist. If outside surfaces are to hold stain for a long time, they must be permeable. In some cases, the prior stain may need to be disposed of. Whether a home is painted or stained, surface preparation should not be given short shift.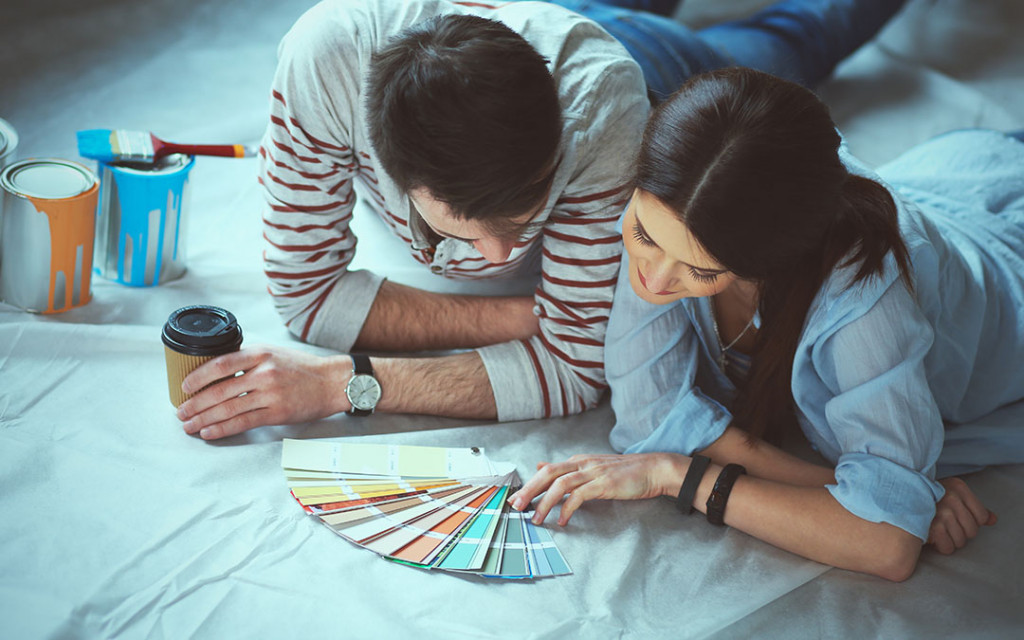 Tips for painting a brick home exterior
Looking for a quick, easy and affordable way to transform your dated brick home exterior? Painted brick is one of the hottest home exterior trends right now, favoured for its cost-effective and totally transformative results
Updating the exterior of your home is a sure-fire way to up your street appeal and increase the value of your property, but at what cost? Rendering or cladding the exterior of your home can prove to be an expensive exercise that may not entirely pay itself off when it comes to calculating the resale value.
That's where the power of paint comes into play. Paint is a DIY renovator's best friend. It's easy to use, affordable and can transform a tired looking space, piece of furniture or in this case, a brick home exterior, quickly and effectively.
TIPS FOR PAINTING OVER BRICK
"Painting exposed bricks is an effective way of refreshing any room or home exterior," says Fiona King, Taubmans Colour Expert. "Walls offer a canvas for artistic vision and injecting much needed colour – this inexpensive updating process can transform the style and feel of a home."
A wall that has been properly prepared will not only make painting easier, but will help achieve a vibrant, long-lasting finish. Prior to painting, ensure to remove any lingering dust and dirt by thoroughly washing the brick wall with a mild soap solution of household detergent and water. Once clean of containments, rinse the wall and ensure it is dry before proceeding.
For good adhesion and a smoother, more professional looking top coat, ensure to prime your surface and leave to dry thoroughly before painting. A second coat of primer is important when dramatically changing the colour of the brick wall, as it aids in effectively blocking out dark brick colour when painting with a lighter paint colour.
To ensure the best finish from your paint job, use a minimum of two – three coats of paint.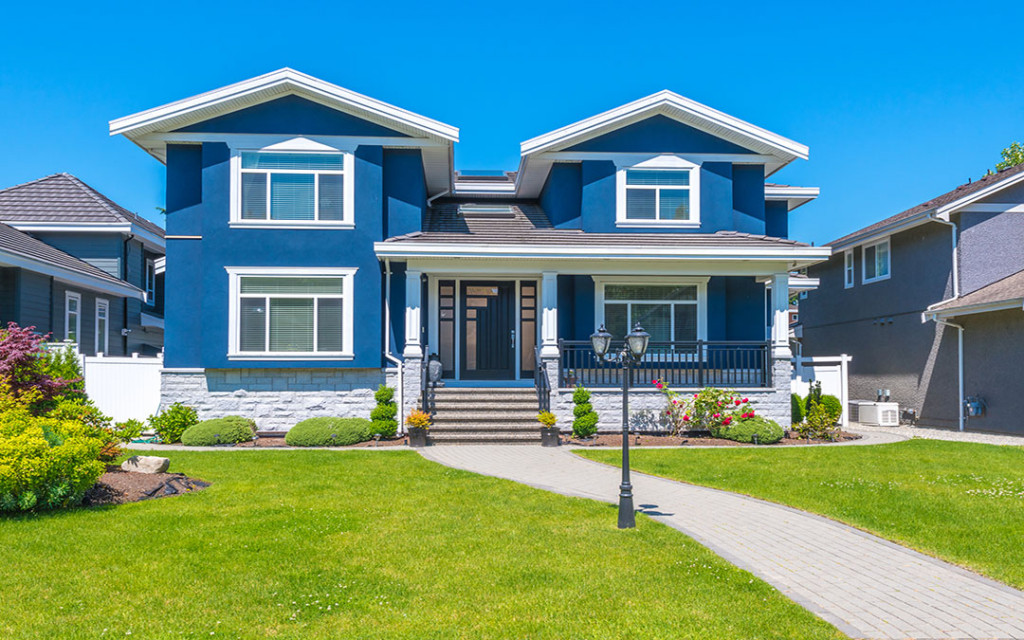 PAINTING TIPS & FREQUENTLY ASKED QUESTIONS
How to select interior color
Light colors will help lighten a dark or poorly-lighted room, and provide a psychological lift. Light colors also make walls and ceilings appear to be further away, and can be used to make small rooms appear larger and more open.
Dark colors can give a room a dramatic look, and create a sense of intimacy. They can also make walls and ceilings appear to be closer, and can be used to make a large room appear smaller and more cozy.
Bright, vibrant colors will give the room a cheerful feel, and a sense of excitement.
Reds, yellows and oranges are warm colors. When these colors are used in a room, they make the walls appear closer, creating the illusion of a smaller room.
Violets, blues and greens are cool colors. When these colors are used in a room, they make the walls appear farther away, creating the illusion of a larger room.
Tans, greys, and off-whites tend not to attract attention, and can be used to create a restful, relaxing atmosphere. They are also easier to coordinate with other colors in the room.
For long, narrow rooms, paint the shorter walls a darker color. This will make these walls appear closer together, so the room will seem less like a tunnel.
For square rooms, paint one wall a different color, preferably the wall first seen when entering the room. This will give the room a more dramatic look and make it seem less 'boxy'.
To decide which paint sheen is best for your project, ask yourself the following questions:
What room, area, or surface is being painted?
Will the painted surface be handled frequently, or subjected to abrasion or excessive wear?
Will the painted surface be washed or scrubbed frequently?
Will the painted surface be regularly exposed to moisture or high humidity?
Does the surface being painted have any nicks, dents, or surface flaws present?
How to select exterior color
When selecting exterior paint colors, take the fixed colors into account (like the roof, brick, stonework or any stained wood), and make sure all the colors look good together.
Light colors will make a small house seem larger, and dark colors will make a large house seem smaller.
A large, boxy house can be broken up by using a trim color that contrasts the body color.
A small house will appear larger if the trim is painted the same color as the body of the house.
Light colors will help keep a home cooler in warmer climates, because they absorb less heat. Dark colors will help keep a home warmer in cooler climates, because they absorb more heat.
Because light colored paint films absorb less heat, they will generally last longer than darker colored paint films.
Some communities have restrictions on what colors can be used on house exteriors, so check this out before you make your choice.